The PKM Creations collection of beaded treasures consists of a variety of artefacts ranging from bookmarks to jewellery, key rings to candle cuffs. All pieces are unique and individually created with care using good quality wires, findings, beads and charms. Among these treasures you will find items to adorn your body, your clothing and a number of everyday household and decor items. Use these treasures as identifiers or just to add a bit of bling to ordinary things. Our beaded treasures also make great gifts for someone special.
You will find all of our beaded treasures in the Creations Store.
Ribbon Bookmarks
These funky bead and ribbon bookmarks are just the thing for keeping your place. The ribbon parts and slips over the section of the book you've read marking the page you are currently reading. Slide the top bead down to keep the ribbon firmly in place. Great for travellers and those who like to read on the go.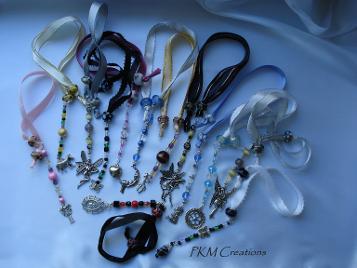 Book Thongs
A simple yet elegant form of bookmark for avid readers. Bead clusters and charm dangles provide weight on the ends allowing the thong to sit securely between the pages keeping your place. Treat yourself or someone else with this practical, unique, handmade gift.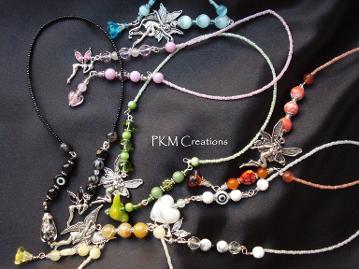 Lanyards
Beaded lanyards are a stylish way to keep valuables close by without having to hold on to them. Our lanyards come in two styles - one suitable for displaying an I.D badge, the other for hands-free safe keeping of items such as car keys, mobile phone, change purse etc. Our beaded lanyards are both attractive and practical.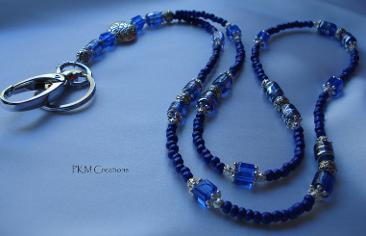 Bag Dangles & Zip Pulls
Add a bit of 'bling' to your bag with a beaded bag dangle or zip pull. Whether it be your handbag, backpack or suitcase, add your own personal touch. A unique bag dangle or zip pull will not only add a bit of flair and sparkle to your bag, it will also act as an identifier to your personal belongings. Simply choose a style and colour to suit and clip it on to a strap fastener, handle or the zipper tab of your bag or suitcase.
For something a little different, why not try one on the pull tab of a jacket or pocket zipper?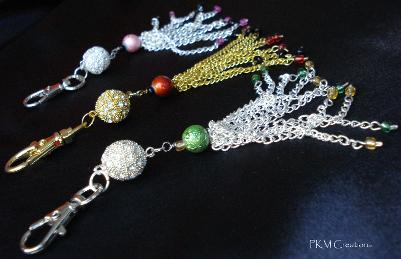 Jewellery
Accessorize your outfits with a unique piece of handmade beaded jewellery whether it be a beaded necklace, bracelet or earrings.
These beautifully handcrafted pieces are created with a range of bead types such as Murano, lampwork and faceted glass, Swarovski crystal, cubic zirconia and natural gemstones.
A lovely way to treat yourself or give as a gift to someone special.

Metal Bookmarks
By hook or by crook, mark your place with beautifully adorned, and often themed metal bookmarks consisting of glass and crystal beads and metal charms. These stylish yet sturdy bookmarks make a lovely gift for an avid reader.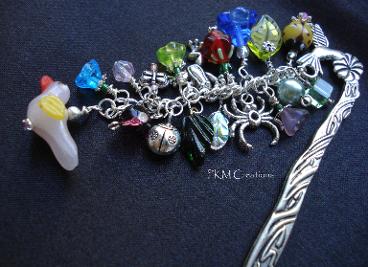 Wine Glass Charms
Rings with charm! Wine glass charms are an elegant adornment to wine glasses and are suitable for any social occasion. The different coloured beads or different charms help guests to easily identify their own glass amongst others. Never mistake another person's glass for yours again!
Key Rings
Like to add your own personal touch to your everyday items?
Keep your keys safe and easily identifiable with a uniquely beaded key ring. Choose a style or theme to suit your taste and just add keys! A great practical gift!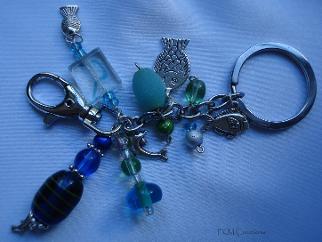 Candle Cuffs
Jewellery for your favourite candles! Many of us enjoy having the odd fragrant candle hanging around either as a room deodorizer or to simply add to the ambience of the room. Candle cuffs are a great way to add a little sparkle to an illuminary pillar.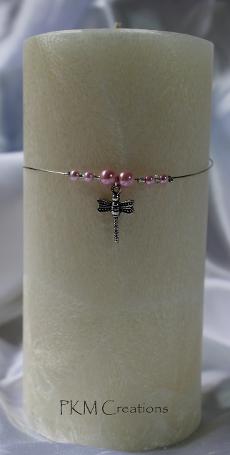 Sun Catchers
Create a dazzling light show in your home or office with a unique crystal sun catcher.

First created by the Southwestern American Indians, sun catchers are the mobile-like equivalent of wind chimes.

When hung in front of a window, sun catchers create a stunning optical display through the refraction of light from the faceted crystals.