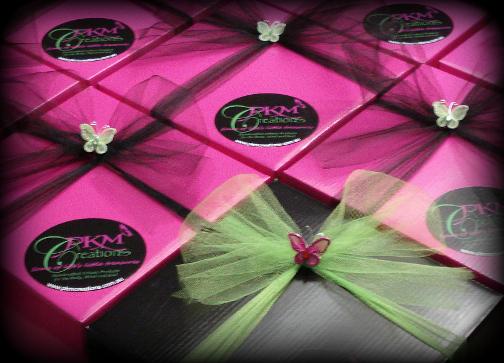 Do you know someone who deserves a little pampering?
Then we will have just what you need to spoil that special someone!

Here at PKM Creations we have created a range of pamper packs or gift boxes to suit a variety of tastes and occasions. Whether you are looking for something special to give on birthdays, anniversaries, at Christmas, as a thank you, as a farewell or even as a house-warming gift, we have something to fit the bill.
Our Pamper Package range offers a variety of items from across our collection of products, and within price ranges to suit any budget.
Don't see exactly what you need?
No problem! We encourage our customers to make special requests and we will do everything we can to accommodate them.

If you have a particular selection of products in mind that are not already grouped as one of our regular gift box offers, please don't hesitate to contact us to request a tailor-made pamper package.

Our aim is to assist you and those special to you, to indulge in quality handcrafted products created especially to benefit the body, mind and soul.

Let us help you find and enjoy some of life's little pleasures.