Wash away your cares with PKM Creations beautifully handcrafted artisan bath and body treats.
Our soap is created from scratch by the old-fashioned cold process technique using a range of vegetable oils and butters which provide firm bars, creamy yet abundant lather and wonderful nourishment for the skin. They are scented with fragrance oils, and often include skin-safe cosmetic colourants and glitters.
At PKM Creations, we believe in offering unique, quality, handmade products free from harsh chemicals. Our boutique products are produced in small batches allowing us to have full control over the quality of the ingredients and the final product offered to our customers. Unlike commercially produced soap, our natural handmade soap bars do not contain a range of 'fillers' used to bulk up the product and ultimately reduce the goodness being imparted to the body during use. As consumers of our own products, we believe there is nothing quite like the luxuriousness of a natural, handcrafted product into which the creator has poured a great deal of time, care, energy and inspiration during its creation.
In our Savon Boutique, you will not only find cold processed soaps but also glycerin soaps, both of which often include a range of natural additives such as oatmeal, lavender, coconut, loofah, clays, activated charcoal, cocoa and poppy seeds which act as exfoliates and cleansers. You will also discover the goodness of milk-based soaps, particularly goat's milk, which is reputed to aid sufferers of skin conditions such as eczema and psoriasis. Our colourful glycerin-based soaps are great for enticing young bathers into the tub, or to give as a welcome gift to house guests.
Why not spice up bath-time with some of our creative bath bombs and salts, sugar and salt scrubs, and cupcakes? These gorgeous bath treats also contain the same quality oils and butters as our soaps and can add a little sparkle to your daily cleansing ritual.
As the largest organ of the human body and the defense barrier against the elements, our skin requires and deserves special care. Caring for our skin needn't end when we step from the shower. PKM Creations offers a range of luxurious handmade body treats such as massage bars, body mousse and lip balms which are also created from nature's finest oils and butters and used to exfoliate, moisturize and soften the skin giving it a soft, silky feel and healthy glow.
For further information about our handcrafted artisan soap, please read
About Our Handmade Soap.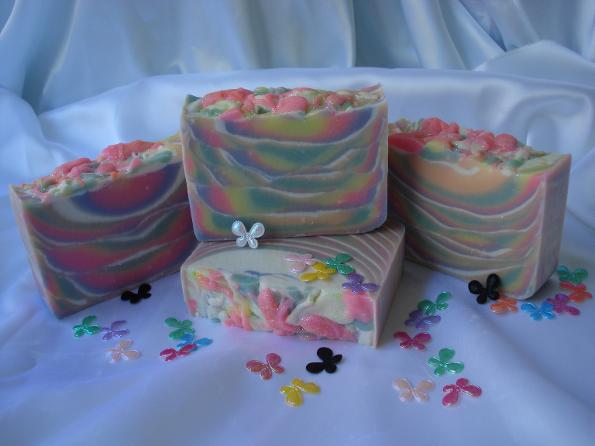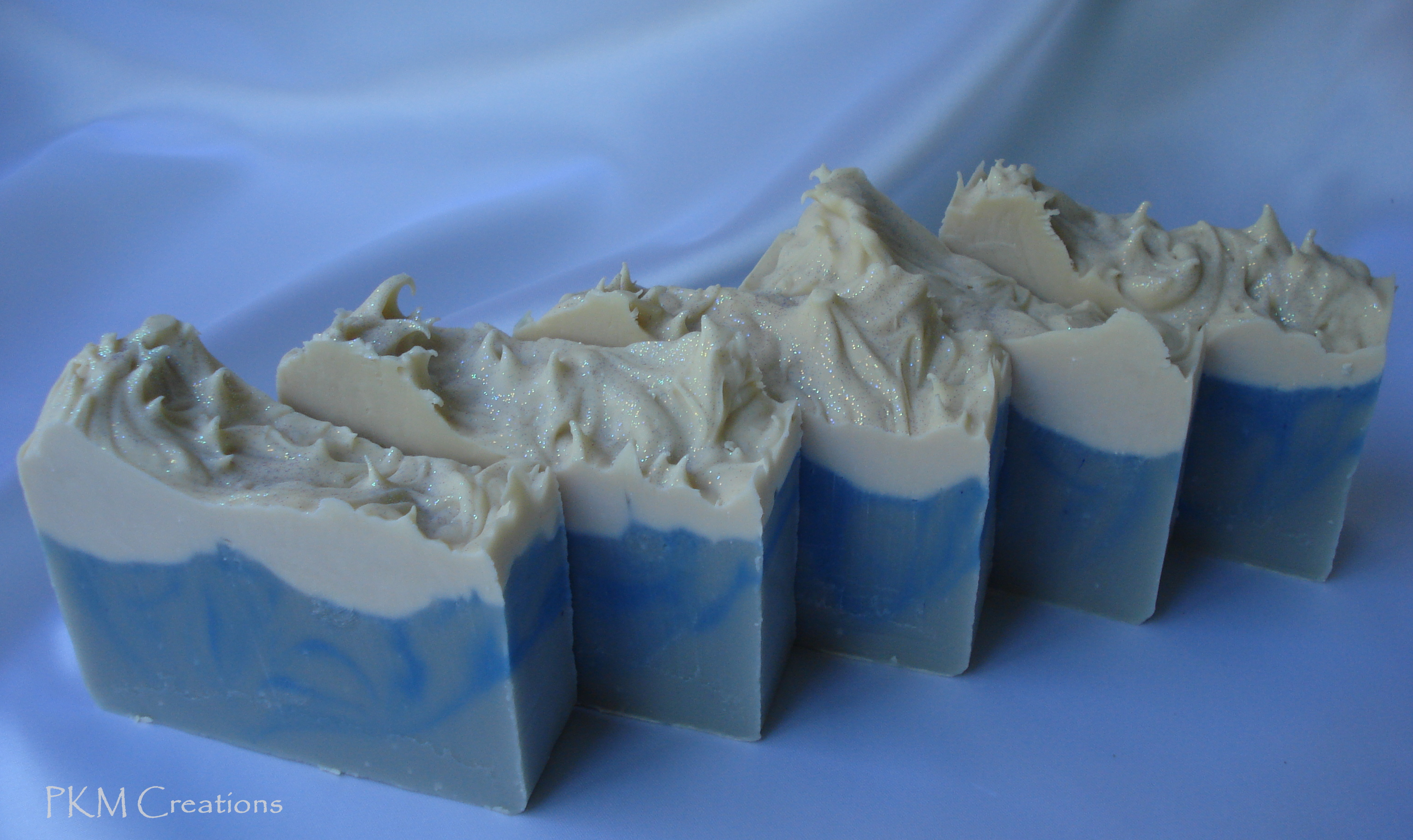 Indulge yourself with our selection of beautifully handcrafted bath and body treats from our

Creations Store
Goat's Oats & Honey Goat Milk Soap
Luscious Lavender Goat Milk Soap

Blue Pacific
Neon Kaleidoscope

Wild Wasabi
Snow White

Midnight Flight
Safari

Lemon & Poppy Seed Goat Milk Soap
Cafe Exotique
Here is a list of the soaps currently curing and the dates they will be available...